DESIGN PROCESS
Knowmore is an app for Twitter users that filters key words to control harassing tweets. The app called for sleek, visual branding, similar to Twitter. The dominate palette used was based on Twitter's clean design sensibility. The Knowmore logo speaks clearly to users while using Twitter's voice. The most important design feature of this app was the color-coded dial and rank system which quantified the potential threat of harassment amongst a user's network. The app's overall design was kept clean to not compete with the colourful dial.
THE DIAL
To control the level of information received by the user, a gradient dial best displayed the level of security. Depending on the relationship with another user, Knowmore determines the color-rating based on analytics. Knowmore automatically blocks users based on these analytics, but the functionality to whitelist is available as is the ability to block, mute, and unblock manually.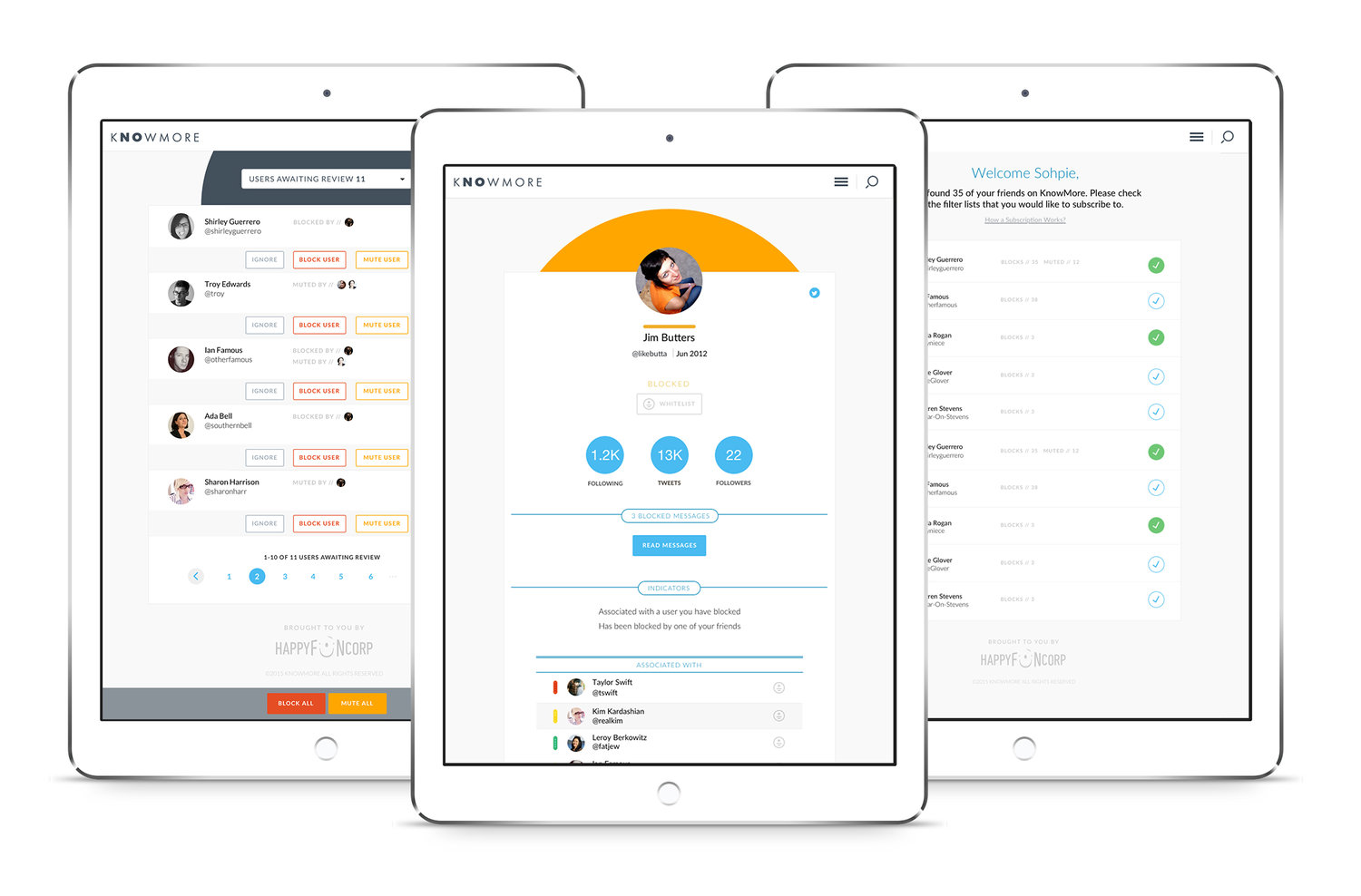 FILTERING PROCESS
The filtered users screens serve as an organised way to sort through the networks on Knowmore. The "Users Awaiting Review" screen serve as a inbox for the user to determine whether or not they want individual or groups of users to be blocked, muted, or ignored. Users are also able to easily access various categorised lists from the dropdown. The filtered screens additionally reveal if people in a user's network are blocking similar users in secondary and modal format.
WIREFRAMES & PROTOTYPING
The visual design of Knowmore came after wireframes and prototypes. Vital functionality and screens were first laid out before subsequent screens were created to connect the base pages. More features were added using an iterative process, during which the circular dial was created as it was easy to use, and utilised the natural size of the mobile screen better than a linear dial.
CONCLUSION
Although Twitter did not end up buying this app, it opened a door for a future project collaboration. The task to eliminate online harassment, on and off Twitter, is a global issue and continues to be an issue not easily solved. Knowmore stands as an example of how technology and design can come together for the greater good and help those in need.